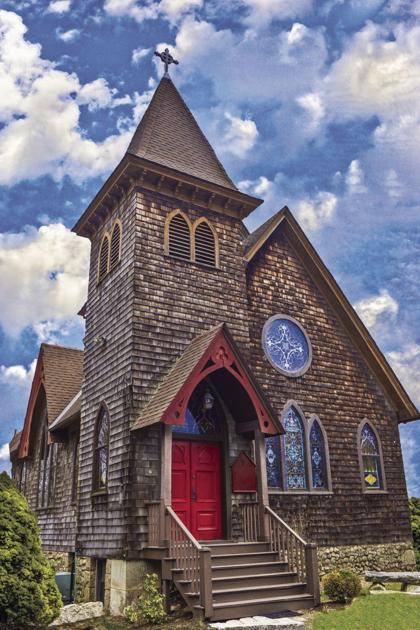 Community Church Announcements | Community news
Worship services
ALVERDA – The Christian Church in Alverda will meet for worship from 9:50 a.m. to 10:50 a.m. on Sunday.
We will worship together to meet the needs of church families, our community, and our nation. Join us as we season our lives for our daily activities.
Pastor Travis Trimble will deliver the morning message. Communion will be served. Prayer requests and praise, music and communion time will be observed.
Fall activities are planned.
The public is invited to join us for worship, fellowship and participation.
For more information, call (724) 549-4358.
ooo
Christ Episcopal Church, 902 Philadelphia St., will hold Holy Communion Sundays at 8 a.m. and 10:30 a.m.
The 10:30 am service is also streaming live at www.face book.com/christchurchindiana/.
ooo
The Presbyterian Church of Crete, 25 Brady Road, Indiana, will meet for worship with Reverend Katie Ward Stear at 11 a.m. on Sunday.
The scriptures come from Job and the sermon is titled "Tell Me Why".
Sunday school is at 9.45 a.m. The youth group meets at noon. As Halloween approaches, the theme is "Monsters from the Bible".
Everyone is welcome.
ooo
HOMER CITY – The Homer City United Presbyterian Church, located at 40 E. Elm Street, has services at 11 a.m. on Sundays.
We invite you to join us in praising the Lord for all he has done for us.
ooo
INDIANA – Grace United Methodist Church, 50 S. 7th St., will be holding services at 9 and 11 a.m. on Sunday.
Pastor Bill Blair continues his series of sermons, "The Great Trios". His message this week is "His message this week is 'Kings David, Solomon and Rehoboam', with the scriptures from 1 Kings 11: 1-13.
During the traditional 9:00 am service, the Chancellor's Choir will sing "Jesus Is the Living Stone". The worship music for the contemporary 11am service will be conducted by Pastor Will Pinos and the tracklist is "Only King Forever", "King of Kings", "No Longer Slaves" and "Holy Water".
The children's church is available during services and the crèche is open all morning.
Adult Sunday School classes meet between services at 10:10 a.m.
Sunday services are broadcast live on Facebook, YouTube and www.indianagrace.org.
ooo
MARION CENTER – The Presbyterian Church at the Marion Center, 206 High St., will hold service at 10:30 a.m. on Sunday.
The title of the sermon is "Love – The Binding", along with the scriptures of Colossians 3: 12-17. Pastor Jackie Greene will preach.
ooo
MARION CENTER – The first United Methodist Church at Marion Center will hold a service at 9:30 a.m. on Sunday.
Guest speaker Glenda Mears will give a lesson called "What Did You Expect".
Scripture is Psalm 5: 3.
ooo
SHELOCTA – The Shelocta Presbyterian Community Church, 182 S. Ridge Road, invites everyone to join the Sunday worship service at 10 am.
Pastor Kathy Nice will deliver the sermon titled "I Want To Believe In God, But … I Just Want To Have Fun".
Religious services are in person and live on Zoom. Those interested in Zoom should contact the church office at (724) 354-2352 for more details.
ooo
Members of Calvary Bible Church invite the community to their Sunday services.
Pastor John Traxler preaches revival messages at 10 a.m. during the month of October. These will be posted on Facebook on the "John Traxler" page. This week's revival message is titled "A Prayer for Revival."
Worship is at 11 a.m. Traxler will give the message "Follow as dear children".
There will be a prayer meeting and Bible study at 6:00 pm with the message "Big plans, but a big promise".
For more information, call (814) 743-5448. The church is located at 2712 Pinevale Road, between East Run and Rochester Mills.
The series on the Holy Spirit continues
The study on the Doctrine of the Holy Spirit will continue this Sunday, the topic being "The Holy Spirit in the Life of the Christian".
After demonstrating the divinity of the Holy Spirit and ministry in the Old and New Testaments, the work of the Holy Spirit takes on a very personal ministry, in and through individual Christians. Terms such as Abode, baptism, and the filling of the Holy Ghost will be included.
The pastor invites the public to come and share this essential Bible study at the Baptist Church. Messages will be available on Facebook via "James McCaulley".
Sale of apple dumplings
HOMER CITY – The Lutheran Hope Church, located at 35 Ridge Ave., is having an apple dumpling sale.
Order by Sunday by calling (724) 479-9431.
Pickup times are 1 p.m. to 4 p.m. on November 1, 10 a.m. to 4 p.m. on November 2 and 10 a.m. to noon on November 3.
Profits go to local and world ministries and relief agencies.
Hymn sing
NANTY GLO – The Indiana / Cambria County Anthem and Gospel will be held Sunday from 2 p.m. to 4 p.m. at the Cardiff Road Church of God, 1060 Cardiff Road.
Come sing, come listen. Everyone is welcome.
Trumpet show
Chiz Rider will perform a trumpet concert at 7 p.m. Sunday at Graystone Church.
Rider is from the State College area and will play music to delight and entertain people of all ages. This concert is sponsored by the PEP group of Graystone Church. Come and spend a pleasant moment of music and conviviality.
Free clothing fair
KENT – The Jacksonville United Presbyterian Church will be holding its last free clothing fair of the year from 8:30 a.m. to 11:30 a.m. on Saturday, October 30.
Lots of good, lightly worn fall and winter clothes in many sizes will be available. Bring a friend and shop for your whole family. Everything is free.
Trunk or treat
DERRY – Derry First United Methodist Church will be hosting our annual Trunk or Treat from 6 p.m. to 8 p.m. on Saturday, October 30.
Children will go from car to car in the church parking lot, located at the corner of route 217 and rue Ligonier Nord, to pick up candy. The 3 best decorated trunks win a prize.
Hot dogs, macaroni and cheese and hot chocolate will be served in the social room. There will be sweets, games and prizes. Everyone is invited to this free event.
For more information, please call the church office at (724) 694-8333.
ooo
SHELOCTA – The Presbyterian Community Church of Shelocta will be organizing a trunk or treat for the children from 6 p.m. to 8 p.m. on Sunday, October 31 in the church parking lot located at 182 S. Ridge Road.
Reform Sunday
BLAIRSVILLE – On October 31, the Lutheran Church in Hebron, 125 N. Liberty St., will celebrate the Festival of the Reformation, a day of celebration of the freedom we have in Jesus Christ and the birth of this church in which we have come to know and love.
With Reverend John Smaligo, we will be welcoming Reverend Kurt Kusserow, Bishop of our Synod in Southwestern Pennsylvania, to the 10:45 am service.
Sunday school for children / adults
BLAIRSVILLE – The Lutheran Church in Hebron, 125N Liberty St., continues to host its Sunday School for Children online.
This course is published by Rev. John Smaligo every Sunday morning and can be viewed any time after 9:00 a.m. Get ready to listen to wonderful songs with Charlotte Robertson on the last Sunday of each month. This can be viewed on the Lutheran Church in Hebron Facebook page. You don't have to be a kid to enjoy the weekly lesson. Please join us.
In addition, the Adult Sunday School class meets in Hebron every Sunday at 9:30 am The focus is on a "The Chosen Ones" video series. Digging deeper into the stories and context of the people and events of the gospels, Season 1 introduces Simon Peter, Nicodemus, Mary Magdalene, Matthew, and Jesus in ways never before seen in cinema. We hope to see you there.
Italian dinner
CORAL – Notre-Dame-de-l'Assomption parish will organize an Italian dinner from noon to 4 p.m. on Tuesday, November 2 at the Coral site.
Dinner to go includes stuffed shellfish, hot sausage, meatballs, salad, bun and dessert. For more information, call the parish at (724) 479-9542.
Pasta buffet
PENN RUN – There will be a pasta buffet from 4 p.m. to 7 p.m. on Saturday, November 6 at the Penn Run Christian Outreach Center.
Eat in or take out will be available and we will follow all CDC guidelines. For more information, please call the church office at (724) 463-0420.
Christmas craft fair
COMMODORE – The Shopping Line United Methodist Church is hosting its Christmas Craft Fair from 9 a.m. to 2 p.m. on November 13.
Applications from craft and home sellers will be accepted until November 6. Contact Rose Lydick at (724) 254-9376 or PLUM Church at (724) 254-1350.
Applications are available online at plumchurch.com.
Planned annual craft fair
PENN RUN – The Penn Run Christian Outreach Center, a ministry of the Penn Run Church of the Brethren, will be holding its annual Holiday Craft Show from 9 a.m. to 2 p.m. on Saturday, November 13. The center is located at 75 Grace Church Road, just off Route 553 behind the church.
Organizers are looking for home parties and artisans for the event. More than 50 themed baskets will be auctioned off from 9 a.m. to 11:30 a.m., followed by a pie auction at noon.
The church will have their almost famous house soup sale with house vegetable beef and chicken noodles available by bowl, pint and quarter. Breakfast and lunch items will be sold as well as bake sale items.
For more information regarding spaces, contact Lori Fackler at (724) 349-2929 before 9 p.m. or at [email protected]