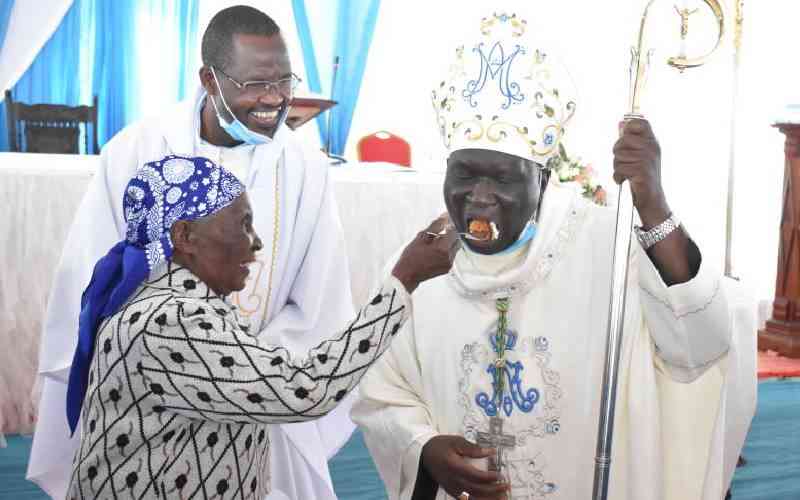 Lower the cost of living, Catholic bishops tell the state
The Catholic Church has called on politicians to stop making false promises and instead face the high cost of living that is plaguing Kenyans.
The Kenya Conference of Catholic Bishops (KCCB) has accused some politicians of taking advantage of the economic crisis to exploit poor Kenyans.
Speaking at a religious service at Consolata Shrines yesterday, Archbishop of Nairobi Philip Anyolo, noted that the cost of living is becoming increasingly unbearable for families with meager financial resources.
"It is surprising that as drought and hunger threaten our borders and we see the price of even the most basic foodstuffs rising, the government remains silent about it. It's sad," said Anyolo, who read the KCCB statement.
The Archbishop regretted that the current economic crisis has become a finger-pointing match among politicians seeking elective positions, which provide no solution.
"During elections, politicians want us to believe that life will start after the election and suddenly things will be better. We are fed this false and empty hope that never comes true," Anyolo said.
The call from the Catholic Church comes as the biting drought on the northern border has affected thousands of residents as well as livestock.
"Many Kenyans are hungry; the cost of living increases. Inflation is getting worse. We need urgent intervention from the county and national government," the Archbishop noted.
He further challenged politicians seeking elective seats to inform Kenyans of their intention to reduce the cost of living.
"We believe that the outgoing leaders could have done much more to mitigate the effects of the perennial drought that has affected our country," Anyolo said.
According to the Archbishop, the economic crisis has been aggravated by the culture of "charity" that prevails during the election campaign.
"We run the risk of electing leaders who do not care about the well-being of the poor and deprived. They have to promise us that they will not increase their salaries once elected," Anyolo said.
The clergy urged Kenyans to explore more innovative and entrepreneurial avenues to increase their sources of income and not depend on handouts.
The church also took issue with the country's international debt, which they say has reached alarming levels amid massive corruption that is destroying public institutions.
"Unfortunately, a lot of money has been wasted due to corruption. Business in the informal sector depends on good governance, which is lacking," Anyolo said.
The Archbishop said the church has set aside a team to conduct civic education on the elections in churches and at the community level to ensure a peaceful election in August.